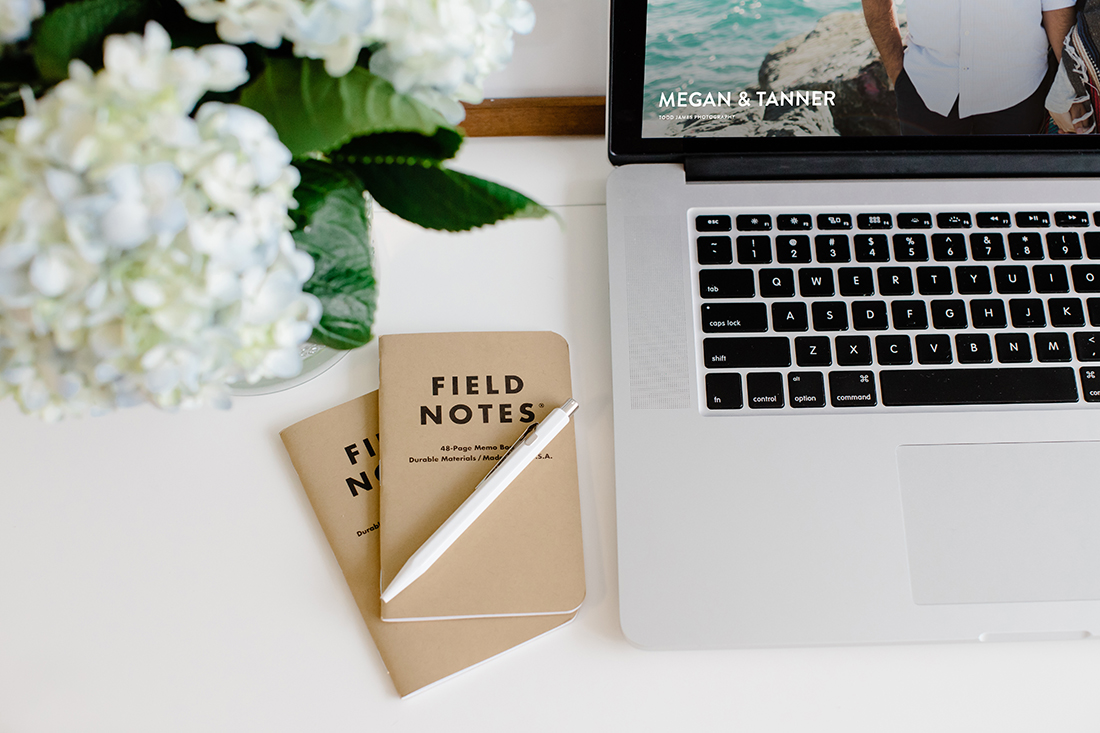 Contracts & Invoices: Oh, My!
Your logo is looking great, your editing skills are up to par, and you have new clients reaching out because their friends are bragging about your talent. It's time to take your business to the next level: contracts and invoicing! It doesn't have to be stressful; ShootProof's got what you need to make the transition to protecting your business (and going paperless while you're at it!) super smooth.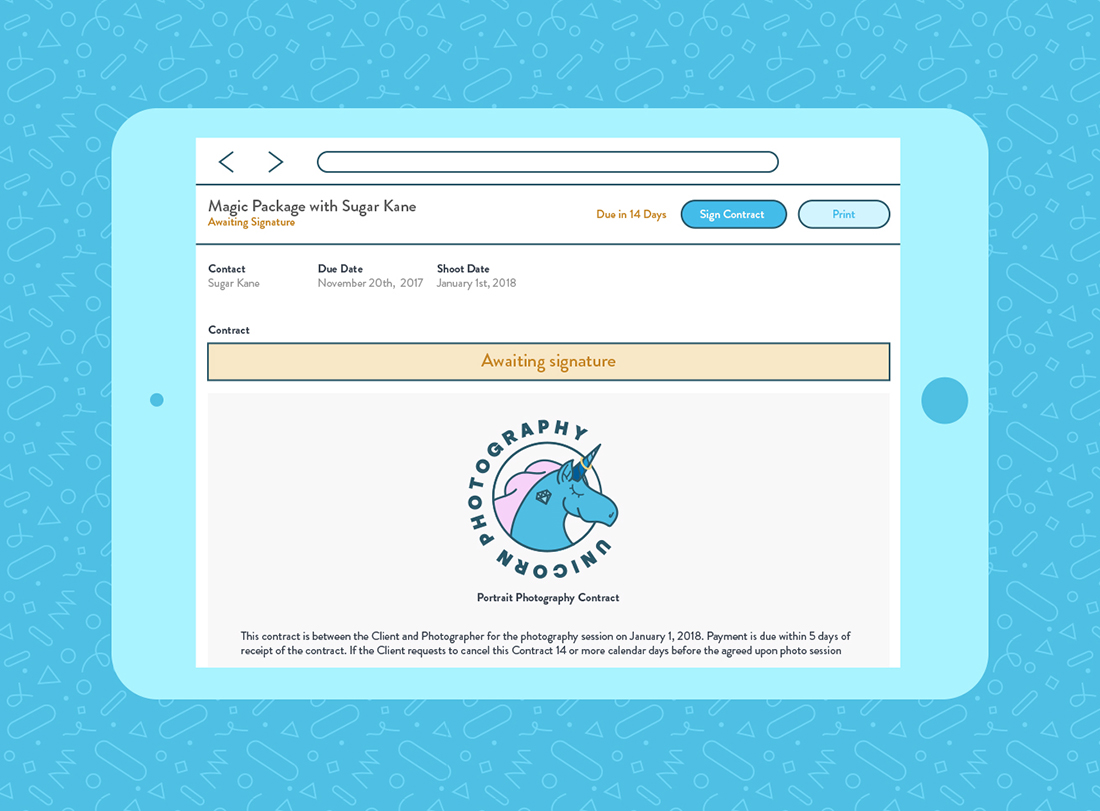 First: Why do I Even Need a Contract?
Most clients will play by the rules and will be a dream to work with. But when the time comes that your policies are questioned, a large sum of money is at risk, or you stand to have your business name tarnished, you'll be thankful you have a legal document that protects you and your assets! In ShootProof's Marketplace, you'll find lawyer-drafted contracts, model releases, and more. Getting set up is as easy as selecting a document (or a bundle of documents), plugging in your business details, customizing as you wish, and saving.
Already using a contract? Awesome– you're one step closer to virtual paperwork perfection. Copy and paste it into ShootProof and start using it with your clients immediately!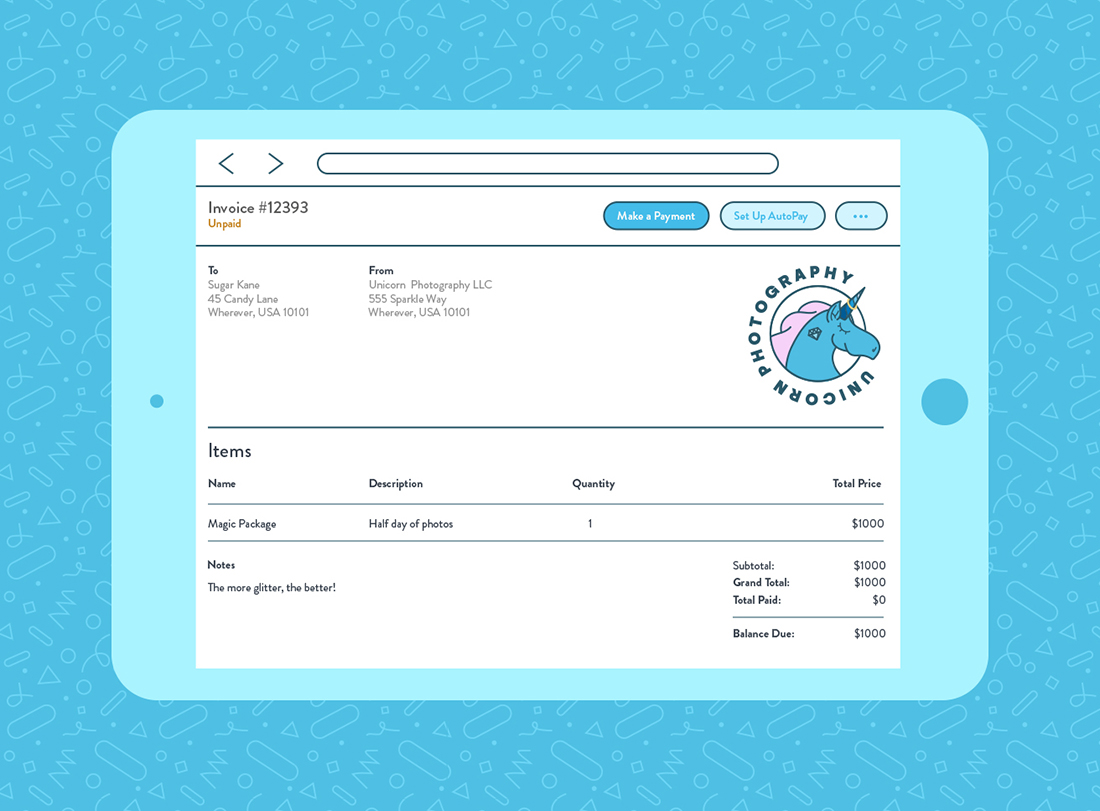 Invoices: Better Than Checks
If you've been collecting cash or checks from clients for their session fees, deposits, or even order payments, you may have found that this works well.  So why switch to online invoicing? We'll tell you: Professionalism, time, and safety.

Save time.  Checks mean visits to the bank, long waits for money to clear, and the looming threat of bounced check fees if Client A happened to pay her rent the same day she paid for your photography services. Plus, you can send an invoice (and collect the payment) from the comfort of your own couch!
Be professional.  There's just something about receiving a beautifully-designed email that links you to a personalized online invoice that ups your game immediately. Instead of being the photographer that meets at the local Starbucks to collect cash for a mini-session fee, you can send a modern invoice with your logo on it and your client's specific purchases spelled out clearly so there's no confusion as to what they're buying. Even better: ShootProof's invoices can be linked to a contract, which means you can send your potential client an agreement to sign and an invoice to pay all at once!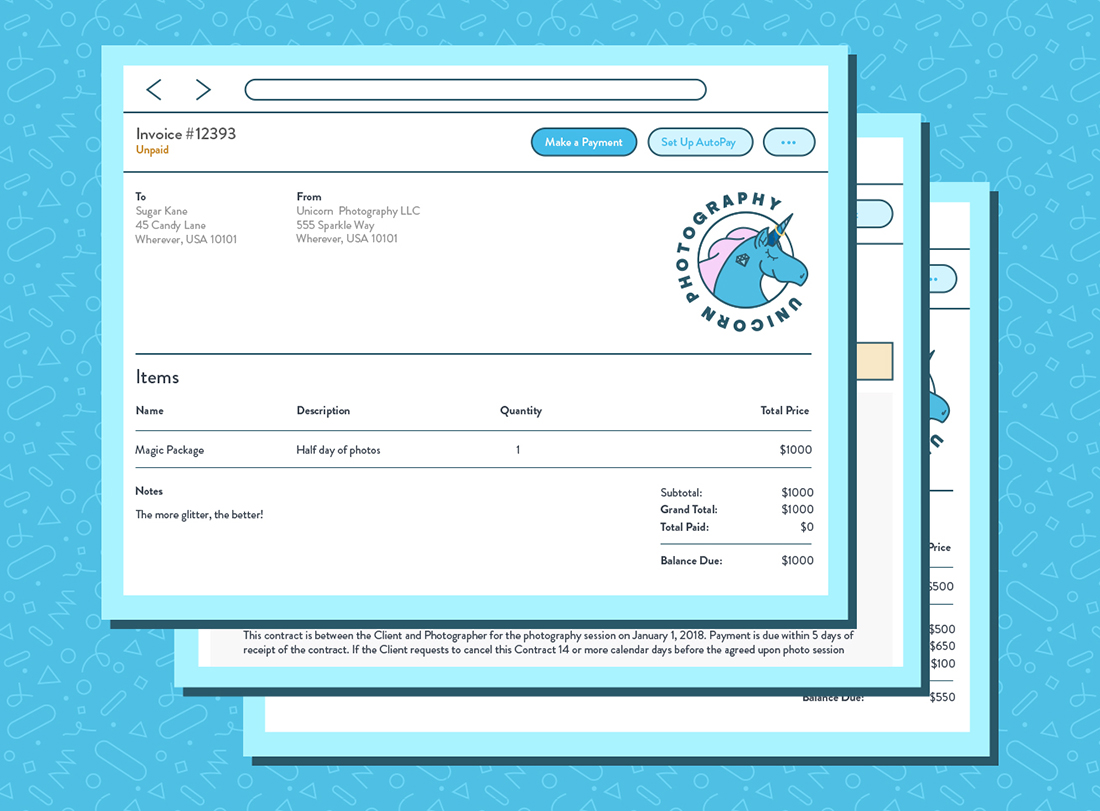 Protect your business.  Just like with a contract, an invoice protects you and your business should anything go sour. ShootProof's invoices provide your client with an itemized list of services and/or products, and allow you to securely collect credit card payments online. You also have the ability to refund a payment if someone changes their mind, and the "paper trail" is securely saved for reference.

Workflow: Here's How it Works
Want to know how it looks in real life? Here's a sample workflow.
Client reaches out to you via email or Facebook: "Omigosh, I LOVE your work. LET ME HIRE YOU!"

You cheerfully respond with detailed information about your packages and product offerings.

Client writes back in font size 42: "YES! BOOK ME FOR THE UNICORN PACKAGE!"

You enter this awesome new customer's personal information into ShootProof, then select the Unicorn Package invoice and the Unicorn Package contract.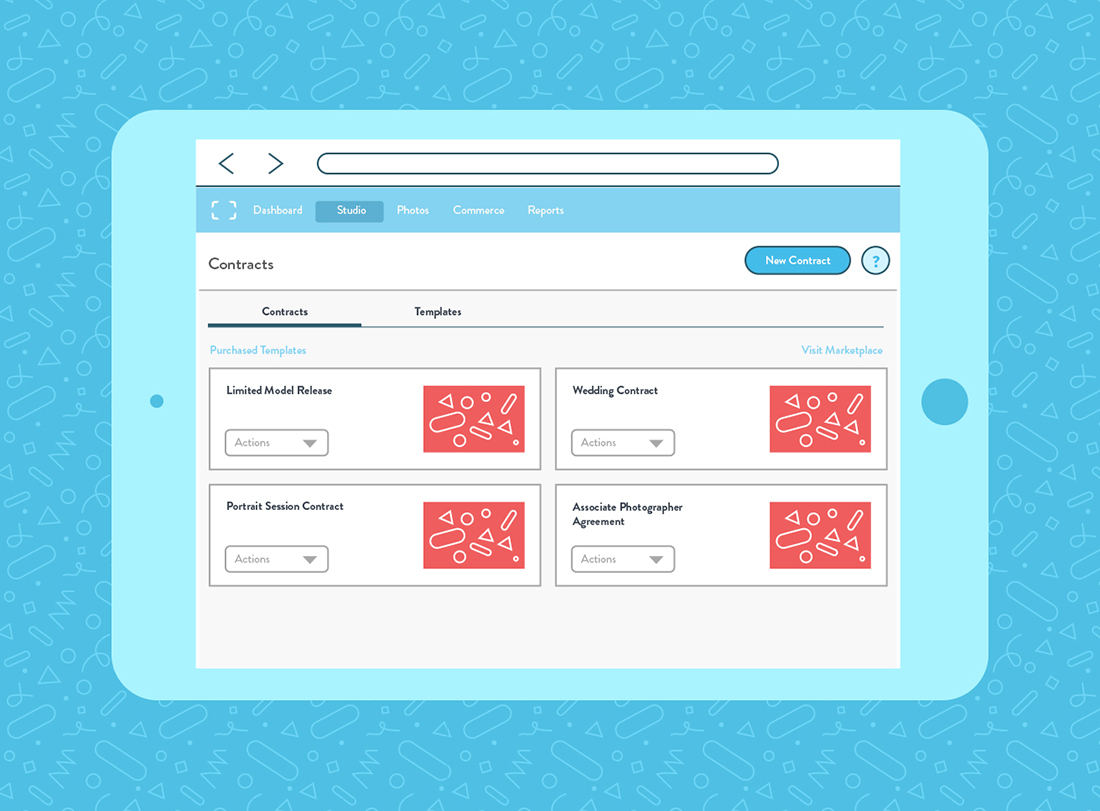 *Pro Tip: You can create invoice and contract templates for all of the different types of photography you shoot (newborns, families, weddings, etc.) and even make templates for the different packages you sell. This way, you have everything set up and ready to go when you have an inquiry!
You send the contract and invoice over to your new

biggest fan

client.

Client pays her non-refundable deposit (retainer) online within minutes, and signs the contract.

You get a notification that you've been paid, so you add her your calendar for the agreed-upon date and call the unicorn handler to get him prepared.

Your client is a busy gal, so she forgets to pay the balance of her invoice. No fear: You email her with a reminder, and she hops on her phone and pays it immediately, with a big "SO SORRY!" in the memo.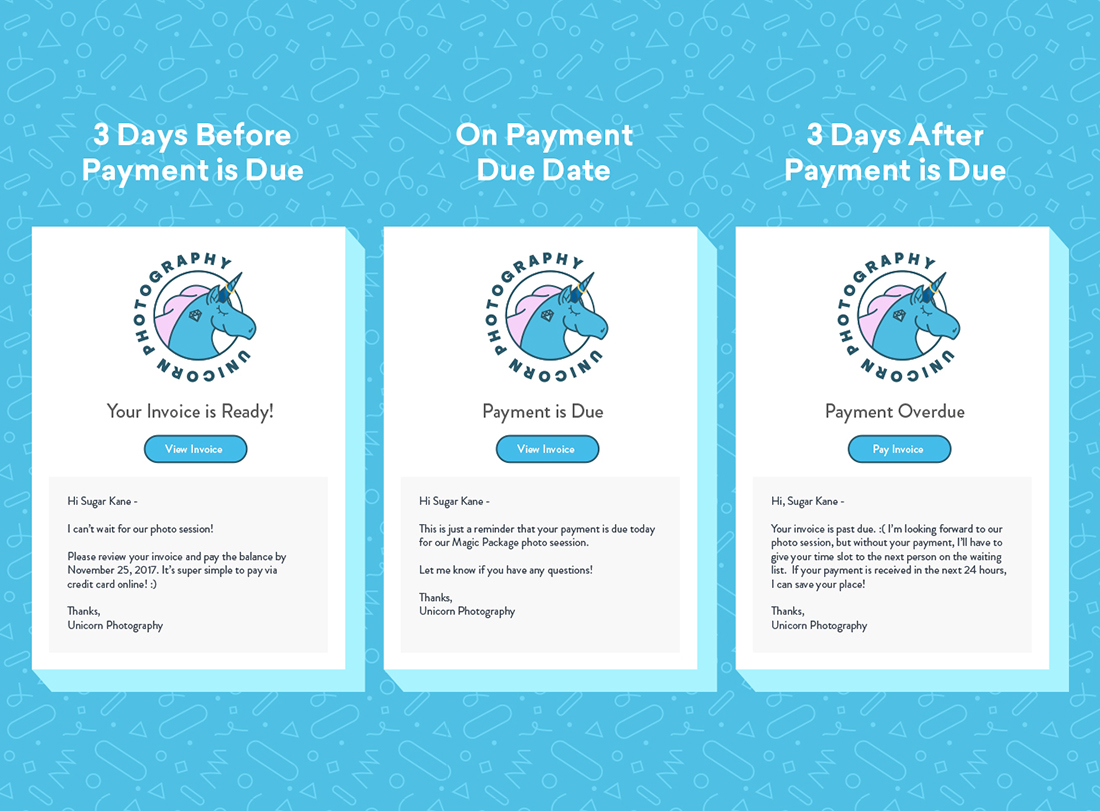 *Pro Tip: You can easily set up automated emails in ShootProof that are sent automatically when a client misses a due date. As always, they have your branding and style, and add to the professionalism you portray with all of your email communication, but they also mean you don't have to stay on top of every payment or due date!

You show up to the session with the unicorn, plenty of glitter, and the happiest client in the world.

Do it all over again with the next client: "Hi. I heard you have unicorns?!"
Try ShootProof for 30 days, free. Make invoices, browse contracts, and get a taste of what your business is missing!