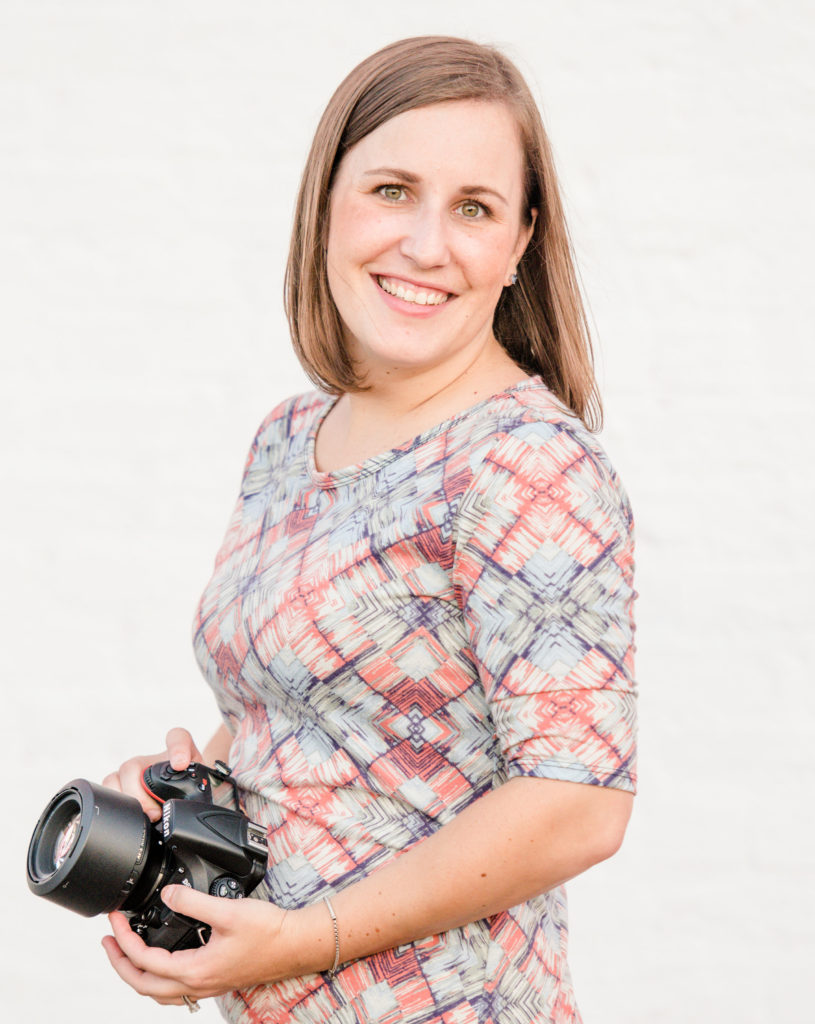 Hi! I am Jessica! I am an on-location photographer capturing portraits, engagements, and weddings currently located in Norfolk, Virginia. The new year has brought a new offering by Jessica Patricia Photography: Milk Bath Boudoir!
When I first started shooting professionally in 2012, I told myself that boudoir was something that I would not offer, but never say never!  As I have grown as a professional I view boudoir as a much more intimate and fine art form of portraiture that I can offer to my clients.  Especially to my brides-to-be! This led me to offer Milk Bath Boudoir sessions.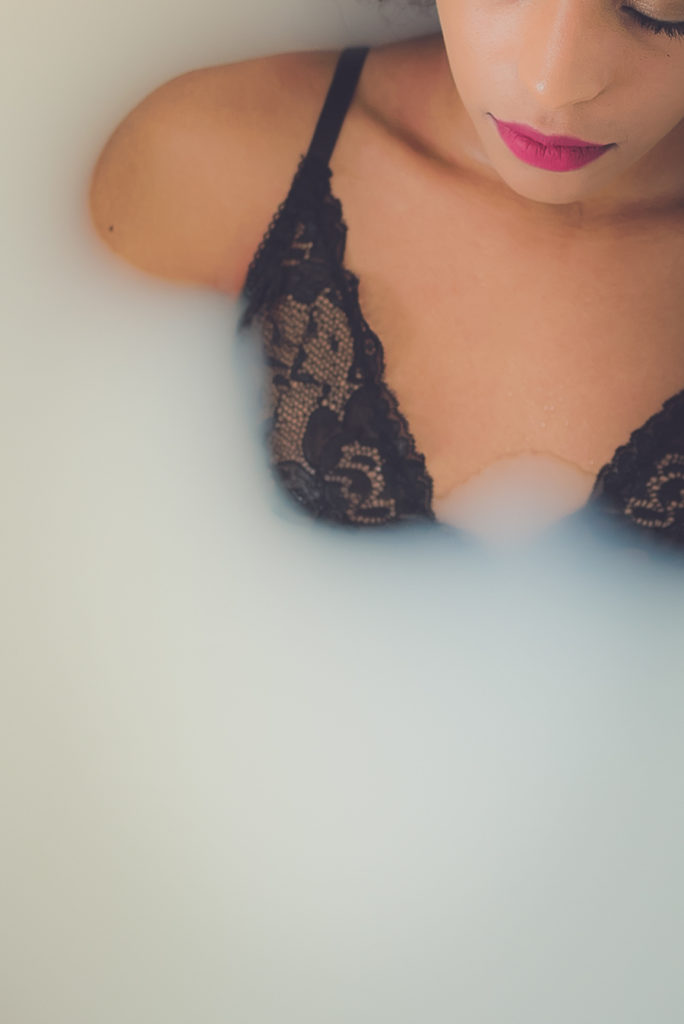 I am offering the milk bath sessions as an alternative to traditional bridal boudoir sessions and for those clients who are looking to capture the beauty that they are with a fine art touch.  I have found the soft femininity and subtle sexuality of milk bath boudoir to be beautiful.
Since I am just getting started shooting and offering Milk Bath Boudoir sessions I did a model call to past local clients as well as to local models.  These shoots were offered at a discounted rate. Since I was just getting my toes wet I made it clear to my clients that I am learning and experimenting with the set-up before they paid or signed any contract.  I think being transparent with your clients is important and believe that it builds trust and loyalty.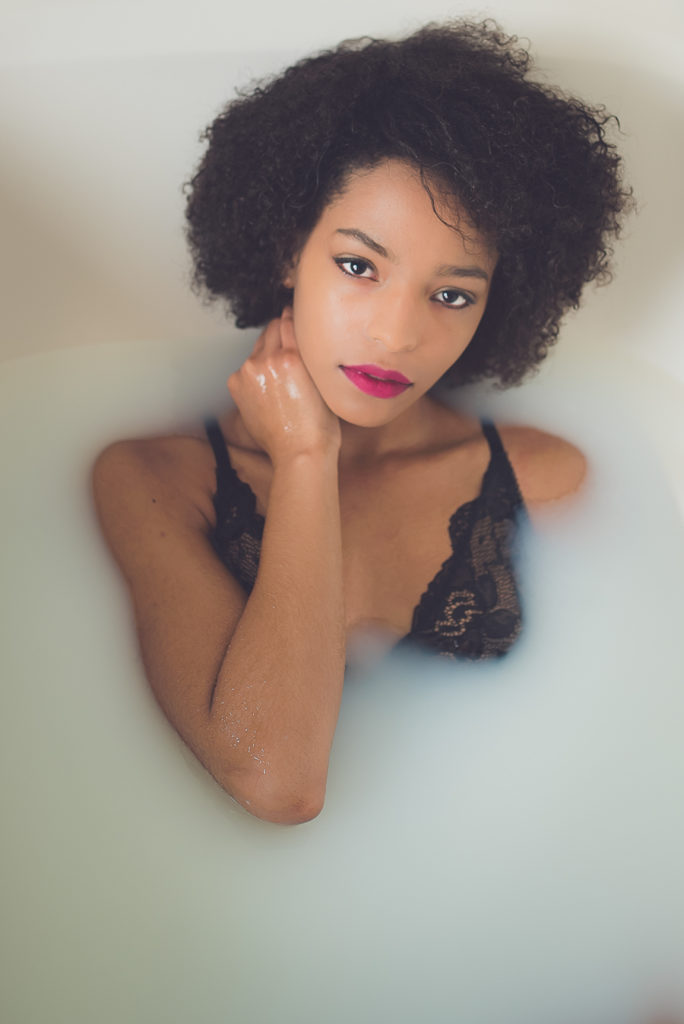 The setup for this shoot was a fairly easy process.  I used an AlienBees b800, 47 inch octobox, Nikon d810, and Sigma Art 35mm 1.4 lens for this shoot.  I generally shoot using prime lenses; however, I found the versatility of the Nikkor 24-70mm 2.8 to be key to such a tight space.  The zoom lens allows for a little more flexibility without having to scoot around the tight space of a bathroom (especially because the 47 inch octobox takes up good portion of the room).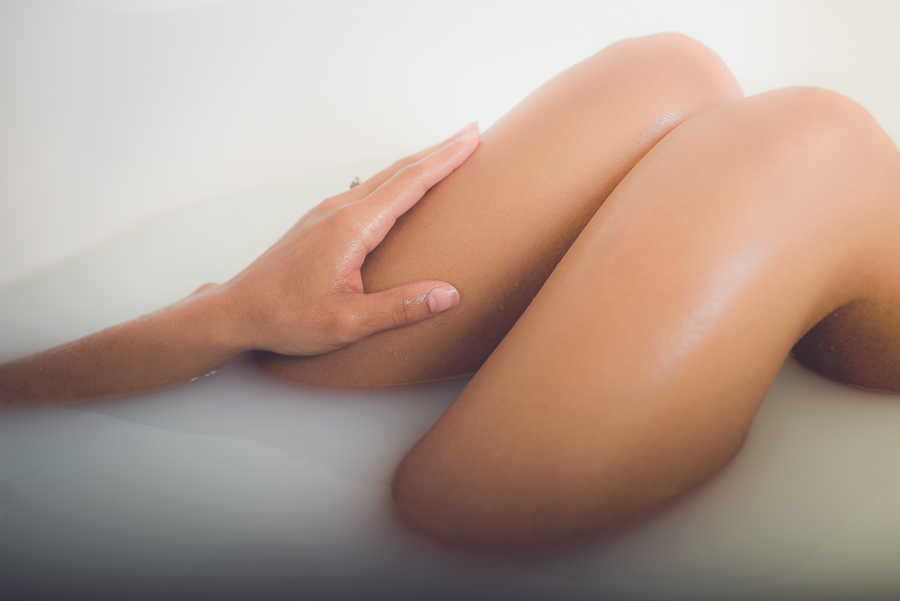 As far as the bath goes, that part is fairly easy: once the bath is full with warm water I add about a gallon of milk (usually whole milk) and have fresh roses on hand to add once the client is ready and in position in the bath.  For this shoot we did some shots before adding the flower petals to the water, which I really liked.  It created a different look and added a bit of versatility to the client's gallery.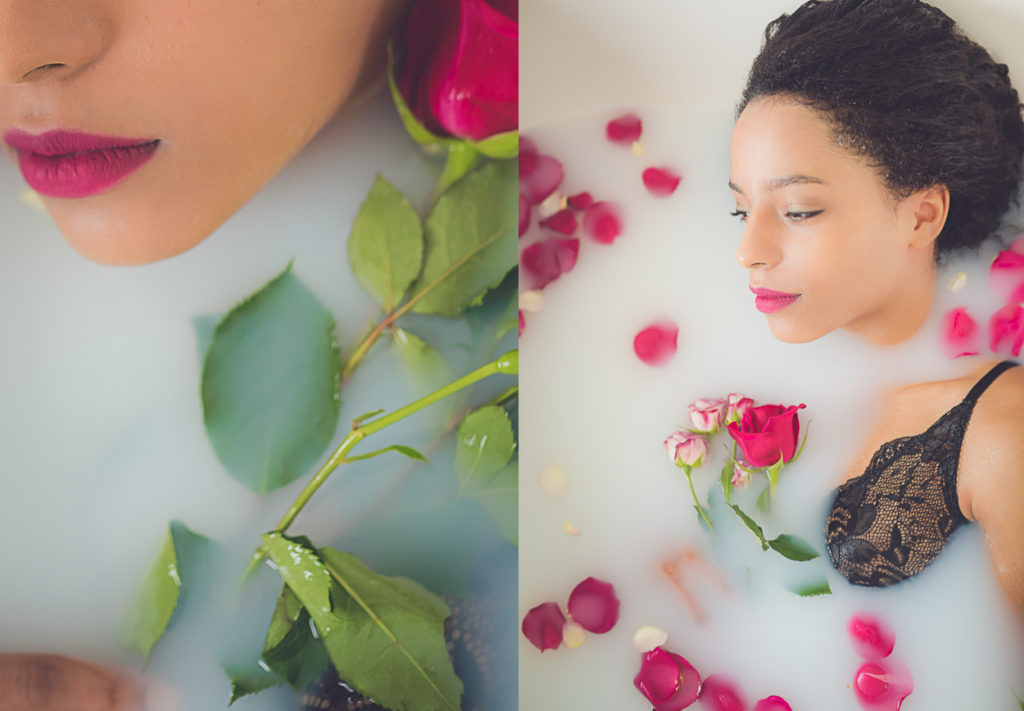 I use rose petals because you can find them in a rainbow of colors, they float well, and they are abundant – one dozen roses will provide more petals than you will need.  I only used petals from three roses for this specific shoot.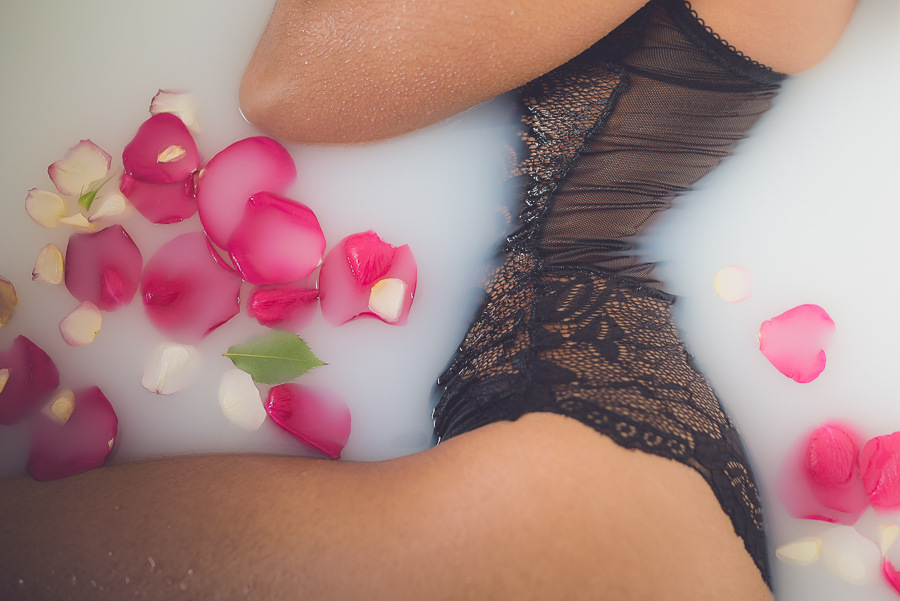 I do process photos from my milk bath shoots slightly differently than those in my portfolio and prefer a matte finish to the images.  I process all of my images using Adobe Lightroom and only take the images that really require additional edits into Photoshop.  Generally speaking, I try to make sure all images are "correct" in camera and edit them to fit my style.  I do create less images from these shoots.  A 60 minute portrait shoot results in about 100 photos that I will cull down to 20-40 for my clients; a 60 minute milk bath shoot has resulted in about 80 photos that I will cull down to 15-25 for my clients.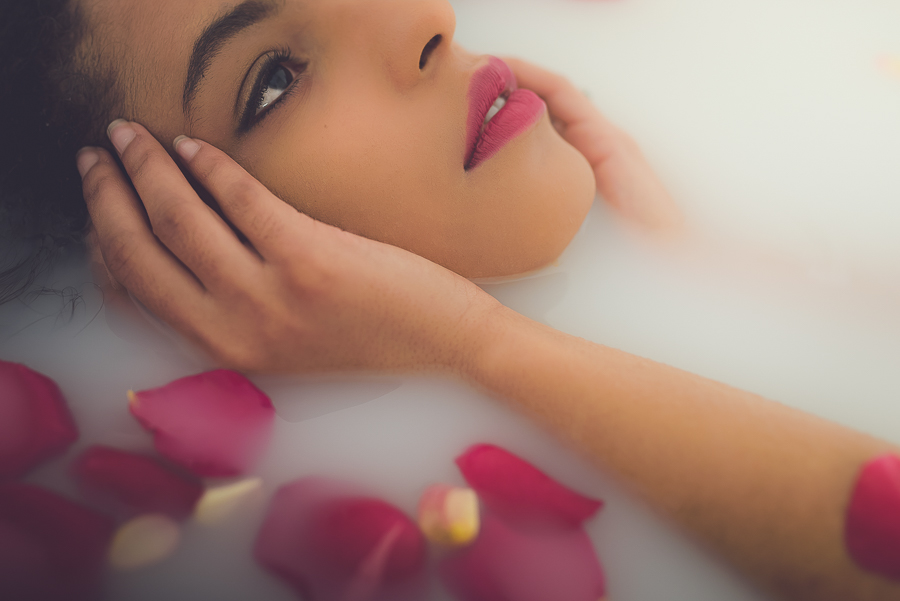 The most important thing that I learned was how to handle everything directly following the shoot. Which, after all my research, I completely disregarded!  The first shoot was a hot mess when we were done shooting because I had no plan for clearing out the bath or offering a shower space for my client.  Now I have a plan. I have a small berry colander that I put over the drain so no petals go down, have at least three towels for my clients on hand (one for while we drain the tub, the others for after they shower), a robe available for their use, and a basket of toiletries for their use.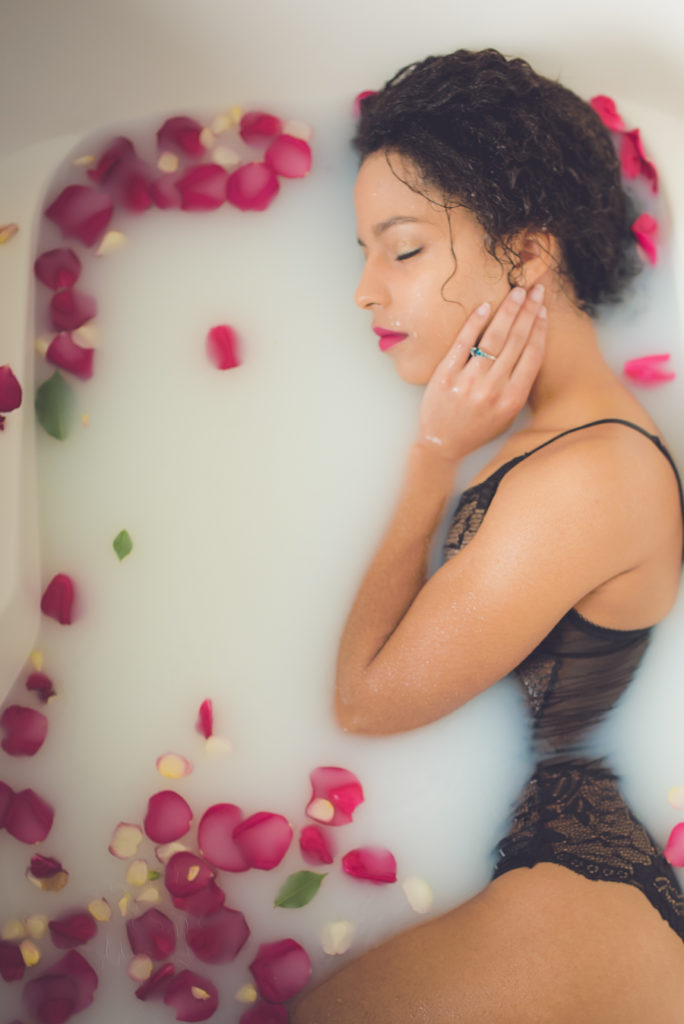 Although the milk is great for their skin it can leave a not-so-pleasant smell once your hair dries. So, as the bath drains I break down my light and remove my camera cart (which holds batteries, alternate lens choices, and speed lights) from the bathroom and allow them to shower and freshen up.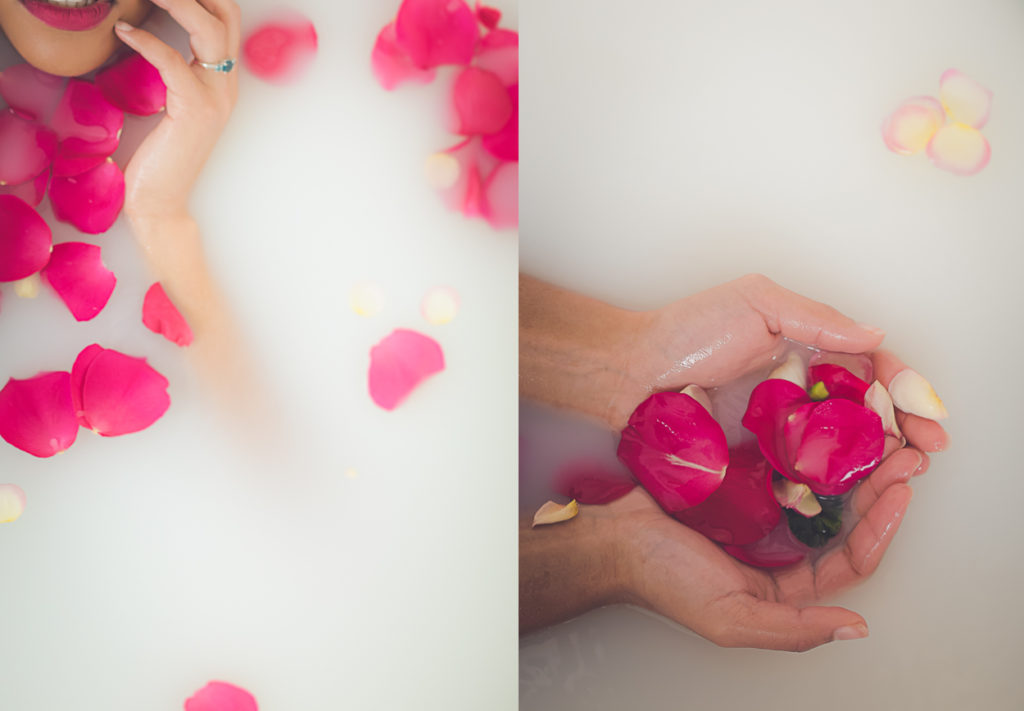 Overall, I think the milk bath shoots that I have done so far have been a great success.  The models have been happy with the results, which is ultimately what matters to me.  But the added bonus is that I am happy with the results too!  I'm excited to watch my portfolio grow with Milk Bath Boudoir shoots.
Model:  Victoria Covington